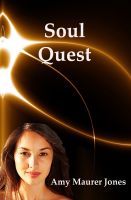 Soul Quest
Amy Maurer Jones
Smashwords Edition 2011
Starting high school is hard enough; but when you are a Human Oracle, life gets even more complicated. Liv Glyn is the kind of girl who likes to remain inconspicuous. Unfortunately, Liv, Laith, Brayan, and Meena have been commanded at birth by The Great Spirit, Hala, to be Human Oracles.
If their lives aren't messed up enough, Laith's sister is a bit of a trouble maker and always has her nose where it doesn't belong. To complicate life even more, Liv's best friend since third grade seems to understand things that no human should be able to understand or see. To make matters worse, Liv thinks she is falling in love with him. Can her life get anymore messed up?
This is quite an unusual fantasy read. You have the Spirit World that is located in a place called Arcadia where Halla resides. Hala just happens to be a bit ancient but lives in the body of a seven year old. You have Guardian Spirits who look after the Human Oracles and guide them in their chosen path. Our Human Oracles are destined to save the world. To complicate their lives even more, they have to protect the world from soul-sucking Daeva and their mutant progeny, Aengels.
Generally speaking, this is a fairly good story, but it had a tendency to drag on way to much. After the story made it to school starting, we had to see the high school records of each of the four chosen. It kept flipping back and forth with each of them following their day and much of the same information was repeated. At one point Liv became angry at Meena for keeping information from them and she had done the exact same thing. She also had a problem with Meena being practical even though at one point she admired her for that. Once I reached about half way through the book, my interest in the story picked up and the storyline really started to move. By that point I was able to see where the story was actually going. I would be interested to see if the next book in the series moves along better then this one.
I wish to thank the author for providing me with a copy of the book for reading and reviewing purposes. I was not required to write a positive review. I was not compensated in anyway except for receiving a copy of the book to review.
I give Soul Quest 3.5 out of 5 stars