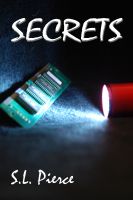 Secrets
S.L. Pierce
Sourcebooks Edition 2011
ISBN 9781466337841
Gwen Michaels moved to California two years ago to escape her past hoping no one would discover who and what she was. She was content with her PI business and being married to a great guy. Then, out of nowhere, someone tries to kill her. The killer figures he will be in and out in no time. Little does he know, he has just met his worst nightmare. Gwen does not take kindly to someone trying to kill her. Does he really think he will get away with it?
Gwen calls Jack following the attempt on her live and goes to pick him up. They check into a flea bitten hotel and Jack's world as he knows it will no longer be the same. After Gwen is finished with her story of who and what she is, Jack is on shaky ground to say the least. Will he be able to trust the woman he fell in love with or will there always be doubts in his mind?
This is a fast paced read full of murder, betrayal, deception and industrial espionage. Gwen gets back into her training mode and sets out to solve the case of who tried to murder her. A local cop has his eyes set on a promotion and is determined to bring Gwen down in the process. This part could have been left out of the story because the story moved so quickly that it almost didn't work. The story in and of itself was a great read and I highly recommend it. The only real deterrant for me was the massive number of chapters for such a fast moving book. It kinda took away from the flow. Gwen is an awesome character and a strong woman that you just have to love. Jack had difficulty dealing with his new found knowledge of his wife. Understandable. He eventually gets caught up in it all and becomes a major supporter. If you like a fast moving, suspenseful story that will keep you guessing until the end, you won't go wrong with this one.
I wish to thank the author for providing me with a copy for reading and reviewing purpose. I was not required to write a positive review. I was not compensated in anyway except for receiving the book to read.
I give Secrets 4 out of 5 stars