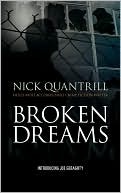 Broken Dreams
Nick Quantrill
Caffeine Nights Publishing 2010
ISBN 9780955407024
Joe Geraghty is a Private Investigator who is used to struggling from one case to the next in the Old Town of Hull. He is asked by a local businessman to investigate the absenteeism of one of his employees. This is the type of case that Joe and his team have done countless times. When the woman, Jennifer Murdoch, is found dead in her bed, Joe finds himself smack dab in the middle of a police investigation that leads all the way back to the time when the city had a thriving fishing industry.
The tangled private life of the woman leads to one of the towns local gangsters, who just happens to be a respectable business man. Frank Salford has a big stake in the cities regeneration plans. Joe is still haunted by his wife's untimely death in a house fire that the police have never solved. He wants answers and those who can give them are the police and Salford. They all want cooperation from each other for their own ends. The question is: Can they work together to get those answers?
This is the first book of Nick Quantrills featuring the Private Investigator, Joe Geraghty. It is the first in a series to be published by Caffeine Nights Publishing in the UK. It has everything you could hope for in a mystery; murder, greed and corruption.
I have to tell you I was quite impressed with this book. It kept me on the edge of my seat the entire time. Every time I thought I had things figured out, a curve was tossed and I was back to square one. I have never been good at figuring out the "who dunnits"; but I have to say I was totally blind sided at the end. On hind sight, I can see it. I was so caught up in the story and what I wanted to happen; it just took me by surprise.
I am glad that we will be seeing more of Joe in the future and I will anxiously await the next installment. You can find out more about Caffeine Publishing and Nick Quantrill by visiting
http://www.cnpublishing.co.uk/
.